The Evening menu is served from 18:00 - 21:00.
Aurora set menu
An authentic Icelandic four-course dinner experience.
Treat yourself to our unique menu, which focuses on courses highlighting the season and the best local produce available
Price per person 11.900,-

To enhance the experience we recommend adding wine pairing, where each course is paired with a wine that compliments the dish.
Wine pairing 9.900,-
Starters
Carrots Threeway 2.900.-
Smoked, salted, and cured carrot, seabuckthorn, nuts

Arctic Char Carpaccio 3.200.-
Marinated baby cucumber, popped buckwheat, pickled reindeer moss, buttermilk sauce, green oil

Scallops 3.200.-
Hey smoked scallops, fermented artichokepurée, pickled onions, wasabi foam buttermilk

Oxtail 3.200.-
Fermented white cabbage, sauerkraut, fried onions, pickled mustard seeds, and red-wine glaze.
Tuna Tartare 3.200.-
Spring onion, chilli curry-rice crisp, sesame seeds, sesame oil
Main Courses
Fish Of The Day 4.200.-
Catch of the day, straight from the dock

Seafood With Consommé 4.800.-
Langoustine, blue mussels, monkfish, tiger prawns, seaweed, and mushroom consommé

Lamb Dry Aged 6.900.-
Black garlic, celeriac purée, pickled onion, wasabi, miso honey glaze, lamb bone broth sauce

Calf 5.200.-
Calf brisket, Calf sirloin, capers, baby potatoes, mushrooms, calf glaze

Leek and Jerusalem Artichoke 4.900.-
Jerusalem artichoke purée, baked leek, salt-baked onion, nuts, apricots, vegetable broth

Burger 4.100.-
Salad, smoked tomato apple chutney, grilled parma ham, 12-month cheese, garlic, and chilli mayonnaise
Desserts
ICE CREAM FROM HOLTSEL 2.400.-
Our chefs work with a local dairy farm, and together they create special flavored ice cream. Ask your server about today's flavour

Baked Alaska 2.800.-
Noisette icecream cake, Italian marengue, bourbon whisky

Banana 2.600.-
Rum-infused caramel, coffee crumble, coffee ice cream
Pear 2.600.-
Yuzu and Xanté marinated pears, rye bread, arctic thyme, white chocolate ice cream
Chocolate Tart 2.600.-
With a hint of orange and chili strawberries marinated in Grand Marnier, vanilla ice cream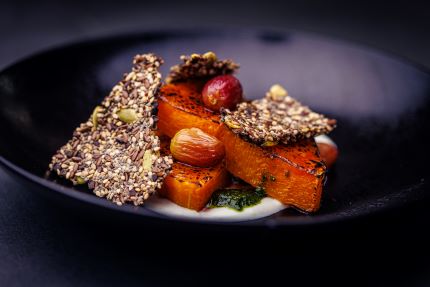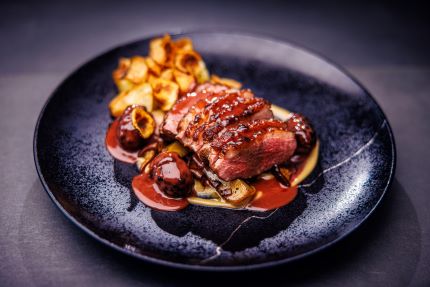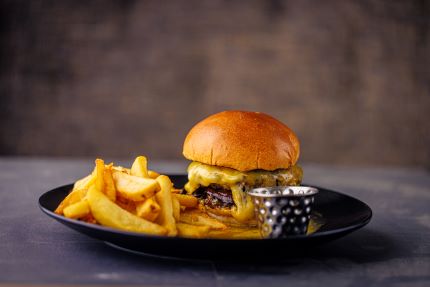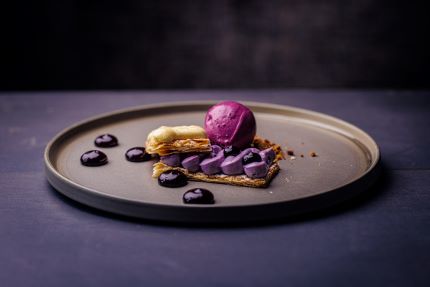 If you have an allergy to any food products, please inform your waiter.