Aurora restaurant is open every day from 12:00 to 21:00.
The perfect snacks with nice drinks!
Bar Snacks
Salad, smoked tomato-apple chutney, grilled Parma ham, 12-month cheese, garlic- and chili mayonnaise

TORTILLA WITH CHICKEN 3.500.-
Sourkraut, garlic- and chili mayonnaise

OPEN STEAK SANDWICH 3.900.-
Beer fermented fennel, chili, melted cheese, popped pork belly

CHARCUTERIE 3.900.-
Mixed cheeses, Parma ham, chorizo, berry chutney, pickled celery, olives, mixed berries, grilled fruit bread

BAKED AUÐUR CHEESE 3.500.-
Berry chutney, Kahlua syrup, walnuts, grilled fruit bread

POPPED PORK BELLY 1.500.-

FRENCH FRIES 1.500.-
Chili mayonnaise

OLIVES 850.-

MIXED NUTS 850,-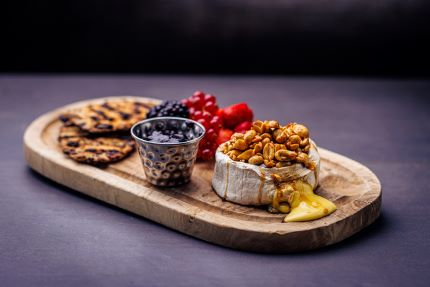 If you have an allergy to any food products, please inform your waiter.